2014.02.17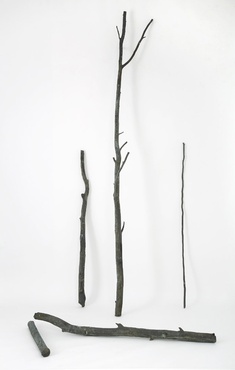 Feria de Madrid, Madrid, Espanha, stand 9E08
Galeria Quadrado Azul is at ARCOmadrid 2014 – International Contemporary Art Fair, happening between February 19 and 23, at stand 9E08 with the works by: Ana Santos, André Sousa, Candice Lin, Francisco Tropa, Hugo Canoilas, Mika Tajima, Paulo Nozolino, Willem Oorebeek and Willem Weismann.
    
Ana Santos (Portugal, 1982), awarded this year with the EDP Foundation New Artists Prize, brings recent works. These are pieces which reflect an essential search in her practice: to think the creation of objects and its articulation with the exhibition space, within the expanded field of drawing. Her process, varied and economical, tries to find several formal solutions for a continuous, pragmatic and quick exercise of fixing the gesture and the idea contained in that same gesture as transforming action.
     
By André Sousa (Portugal, 1980) can be seen the work O Rabo do Lagarto from 2010. André Sousa is continuously questioning through different media – video, photography, drawing, painting, sculpture and performance – not only the ways of creation and reception of the art works, but also the processes of institutionalization of the artist and his work. With a critical view on society, his work is influenced by contexts of counterculture, by antisystemic movements and attitudes, by subcultures.
      
The Body Politic (interrupted, reordered) (2013) by Candice Lin (USA, 1979) reveals a practice in permanent inquiry into racial and gender issues, and how power structures, especially colonialism and imperialism, are involved in the construction of identities. Traversing her work is always the idea that the construction of identity based on the difference, whether national, racial, religious or of gender, is a kind of magic that denies cultural subjectivity. The artist has been showing in North-American institutions such as San Jose Museum of Art, Vincent Price Art Museum, Provincetown Art Association and Museum, Hirshhorn Museum, and participates in Une machine désire de l'instruction comme un jardin désire de la discipline, opening next March at FRAC Lorraine, in France.
      
Francisco Tropa (Portugal, 1968) shows a set of works which have been presented in several international exhibitions. The artist has gained a significant attention by institutions and the critique, representing Portugal in the 2011 edition of Venice Biennale, and participating in Rennes Biennial (2012), Istanbul Biennial (2011), Manifesta (2000), Melbourne Biennial (1999) and São Paulo Biennial (1999). Several media are used by Tropa to convene a series of reflections introduced by the different traditions of sculpture.
      
Hugo Canoilas (Portugal, 1977) shows a series of paintings. The artist, who participated in the last edition of São Paulo Biennial and whose work has been showed along this last year in places such as Workplace London, United Kingdom, Galeria Nosbaum&Reding, Luxembourg, Ve.Sch, Austria, WAF Kunstbuero, Austria, Galerie Kamm, Germany, Galeria Jaqueline Martins, Brazil, and Kunstverein Schattendorf, Austria, develops a work in a constant mutation, freely using a wide range of languages and media, and manifesting itself in a heterogeneous way. Canoilas wants to renew the view about what was already said and done, freeing up the cliché in art.
      
Mika Tajima (USA, 1975) presents works from her solo exhibition at Galeria Quadrado Azul, Lisbon, in 2013. Connecting geometric abstraction to the shape of our built environment, Tajima's work explores the production of the performing subject in spaces where material objects outline action and engagement. Her work was presented in the renowned North-American institutions San Francisco Museum of Modern Art, Whitney Museum of Art, deCordova Sculpture Park and Museum, and also at Centre Pompidou, in France, and at Mori Art Museum, in Japan.
     
The photographs Rock, somewhere on the Atlantic coast (1984), Dead Mule (2008) and Napoli (2013) by Paulo Nozolino (Portugal, 1955) can be seen at ARCOmadrid. Nozolino is one of the central figures of contemporary photography. He sees photography the same way he sees life, using it to understand both the world and himself and taking it to the limits of his quest, his answers and his experiences. Public recognition accompanies the artist's work from the beginning. Awards such as the Villa Médicis (1994), in France, or the Grande Prémio Nacional de Fotografia (2006) and the Prémio Sociedade Portuguesa de Autores (2013) in Portugal, are reflections of such notoriety.
      
The works by Willem Oorebeek (The Netherlands, 1953) show an attention in the question of image and its representation. Exploring notions of repetition, reproduction, authorship and originality, Oorebeek works in what he calls the infinite cycle of destruction and recirculation of print images. His specific method is to collect printed material from the public domain of mass media, and by a manipulation of that material and its transposition into other media, usually using graphic art techniques. Currently is ongoing at Galeria Quadrado Azul, Lisbon, the solo exhibition Séance BLACKOUT (A London Couch) 2012 – 2013.
      
It is from a contemporary world characterized by excess and waste that Willem Weismann (The Netherlands, 1977) draws the subject matter for his work in painting. Environments, buildings, characters, events and objects are elements that appear on the canvas combined in a fragmented way and rendered in strong colours. However, rather than represent a reality, the artist creates narratives where characters and objects have no relation with the context from which they were removed. In Madrid, works are shown from his last solo exhibition in 2013, at Galeria Quadrado Azul, in Porto.
More Info