2018.06.14
Francisco Tropa in the exhibition "Listening to the Waters - Works of the Schneider Collection and Portuguese Artists"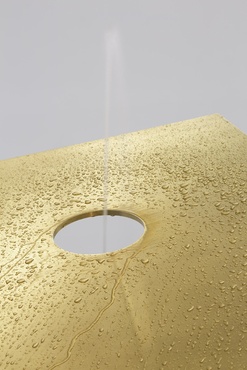 Museu do Dinheiro - Antiga Igreja de S. Julião, Largo de S. Julião, 1100-150 Lisboa
Francisco Tropa is one of the Portuguese contemporary artists that is part of the exhibition "Listening to the Water - Works of the Schneider Collection and of Portuguese Artists" with the presentation of the work Dânae. This show brings together in two iconic spaces of the city of Lisbon - the Money Museum and the East Tower of the National Court - a group of works that have in common the theme of water. With curatorship of Paulo Pires do Vale, works that won the Talents Contemporains competition of the François Schneider Foundation (France) are placed in dialogue with contemporary Portuguese art, in a narrative about the materiality and symbology of water. Over time, water has always been a central theme for humanity for many ways: as a resource or through its scarcity, purified or polluted, a source of danger or hope. And it is about this paradoxical status of the waters that the exhibition is about. Trips of discovery, shipwreck, original myths, plasticity and the passage of time form the main themes of the exhibition, which will take place simultaneously in the Money Museum in downtown Lisbon and in the Torreão Nascente do Cordoaria Nacional in Belém. With water as a theme, the works of 20 artists belonging to the Schneider Foundation collection, in their first exhibition outside France, are presented in dialogue with works by 14 contemporary Portuguese artists selected by the curator, in an exhibition that also includes books, movies and other objects.
More Info