2020.02.10
Hugo Canoilas | Kapsch Contemporary Art Prize 2020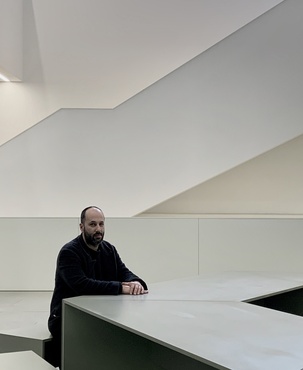 Kapsch Contemporary Art Prize 2020

Hugo Canoilas is the winner of the Kapsch Contemporary Art Prize 2020, in Austria. Created in 2016, the Prize is a joint initiative of the Kapsch Group and the MUMOK Museum of Contemporary Art, in Vienna, Austria.

The group of three experts who nominated the artists were Anne Faucheret, curator at Kunsthalle Wien, Cosima Rainer, curator, head of collection and art archive at the University of Applied Arts in Vienna, and Thomas D. Trummer, director of Kunsthaus Bregenz.

The award panel was composed by Brigitte Huck, historian, curator and art critic, Susanne Titz, director of the Abteiberg Museum, Mönchengladnbach, Vitus Weh, exhibition organizer, playwright and exhibition designer, Georg Kapsch, CEO of the Kapsch Group and Karola Kraus, MUMOK's director. 
    
In addition to the monetary prize, the winner of the prize has a solo exhibition at MUMOK, in Vienna, and will publish a bilingual catalog. Its exhibition opens on the 5th November of this year and will be curated by Rainer Fuchs, chief curator of MUMOK.

Hugo Canoilas is represented by Galeria Quadrado Azul since 2008. Since January 2019, he is developing the collective project The Grotto in the basement of the gallery in Lisbon. His work is currently in dialogue with the work of Júlio Pomar in the exhibition Antes do Início e Depois do Fim - Júlio Pomar e Hugo Canoilas, at Atelier Museu Júlio Pomar until the 1st of March. His work is also being presented in the collection of the Calouste Gulbenkian Museum.

Solo presentations of his work include Under the Volcano - MNAC –Sonae Art Cycles, curated by Emília Tavares, at Museu do Chiado, Lisbon; Endless Killing, curated by Chus Martinez at Centro de Arte Contemporanea Huarte, Spain and 10 Reasons to be a member curated by Tobi Maier at Franfurter Kunstverein. Canoilas' work has contributed to institutional exhibitions such as Publishing as an artistic tool box and Destination Wien, at the Kunsthalle Wien, in Vienna, When elephants come marching in curated by Mark Kremer at the De Appel Art Center in Amsterdam, 30th Biennial of São Paulo, curated by Luiz Perez Oramas, Performance Proletarians organized by Lili Renaud Dewar and Benjamin Valenza at Le Magasin - CNAC, Grenoble and before that, exhibitions at the Calouste Gulbenkian Museum, in Lisbon and at the Contemporary Art Institute, in London, among others. His work has received critical reviews in the magazines Mousse, ArtReview, Contemporânea, Frieze, Metropolis M, FlashArt and in the newspapers The Guardian, Público and Expresso.
More Info