2018.09.04
José de Guimarães at Museu Ichihara Lakeside, Japan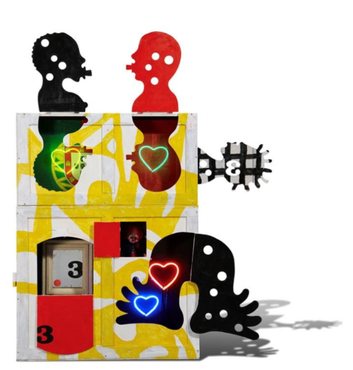 José de Guimarães and Africa
The Quadrado Azul gallery is pleased to announce that the exhibition "José de Guimarães e África" ​​will be held at the Ichihara Lakeside Museum in Chiba province, Japan. From October 20, 2018 to January 13, 2019.
The exhibition will feature the artist's original works from various periods in dialogue with his African collection of Fang and Kota ethnic groups. This exhibition also celebrates the 25th anniversary of its collaboration with Art Front Gallery (designated administrator of the Ichihara Lakeside Museum), Tokyo, which has developed through many public art projects, including Faret Tachikawa, Daikanyama Address, Kushiro Civic Core, Miyagi, Echigo -Tsumari Art Triennale and Setouchi Triennale. This will give the Japanese public a good opportunity to deepen their understanding of art and its past.
The exhibition explores several concepts of the work of José de Guimarães. A series of archetypal forms of his work are always in the process of evolution, or part of a process of translation, of constant change, consolidating a thought that is never static and that is not reified in forms or figures. In this sense, there is a transversal vision covering all his work - the idea of ​​contact. Contact, which means the search for the "other", which in material and symbolic terms is diverse, untranslatable and not figurative. His work can be defined by a successive and growing process of syncretism between distant cultures, of which the visible part is formed by symbols and forms and the occult part is formed by beliefs and energies.
To celebrate the opening, on October 20, Guimarães will give a lecture, followed by a symposium "Why does African art attract artists?" With Professor Ichiro Majima, anthropologist, and Fram Kitagawa, president of the Art Front Gallery as panelists.
In addition, a series of events entitled "Portugal Day" will be held on November 23rd, 24th and 25th, in cooperation with the Portuguese Embassy in Japan, to get to know and experience Portuguese food, music and culture.
More Info