2013.02.05
Kevin van Braak reproduces Franco's desk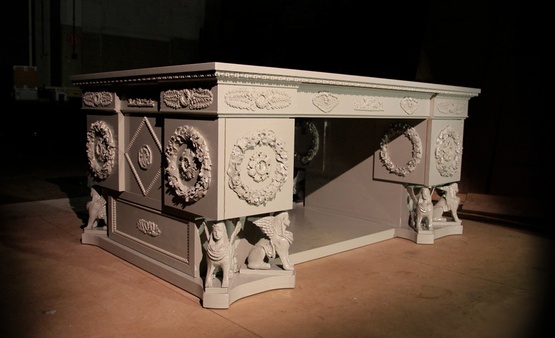 Feria de Madrid, Madrid, Spain
The artist Kevin van Braak produced a copy of the office desk of Franco for ARCOmadrid 2013. It is a detailed, but not exact copy, with the original proportions, but realized in a different material, and coated in polyurea.
This work gives continuity to History is made of different shades of grey, a project the Dutch artist has been developing of reproducing office desks of controversial former world leaders and that includes the tables of Mussolini, Hitler, Stalin, Mao and Nixon. The artist interest is to bring to the fore the history that was written on these desks.
Galeria Quadrado Azul will participate in the international contemporary art fair with works by: Rigo 23, Rossella Biscotti & Kevin van Braak, Kevin van Braak, Hugo Canoilas, Heinz Peter Knes, Paulo Nozolino, Willem Oorebeek, Ana Santos, Thierry Simões, Mika Tajima, Francisco Tropa and Willem Weismann. 
Kevin Van Braak and Mika Tajima will be present from February 12 to 14.
More Info