2018.06.28
Launch of OEI #80/81: THE ZERO ALTERNATIVE: Ernesto de Sousa and some other aesthetic operators in Portuguese art and poetry from 1960's onwards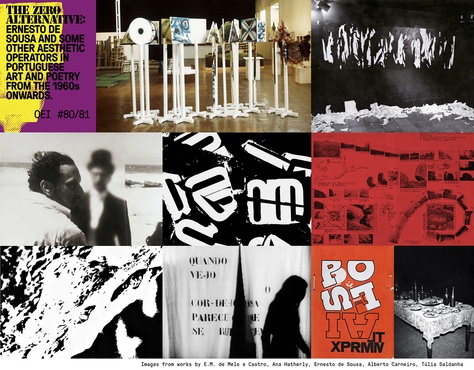 MAAT (Lisbon); Serralves (Porto); CAPC - Espaço Sereia (Coimbra)
OEI #80/81: THE ZERO ALTERNATIVE: Ernesto de Sousa and some other aesthetic operators in Portuguese art and poetry from 1960's onwards
On the next June 30th, at MAAT in Lisbon, OEI Magazine will launch OEI#80-81 (2018). "THE ZERO ALTERNATIVE: Ernesto de Sousa and some other aesthetic operators in portuguese art and poetry from 1960's onwards".
It is the most recent issue of OEI magazine edited by Cecilia Groenberg and Jonas (M) Magnusson (OEI), with Tobi Maier and Hugo Canoilas as associate editors. This publication takes Ernesto de Sousa as the axis for an anthology on the art before and after the Revolution in 1974 in Portugal.
   
With more than 600 pages, and more than 50 contributors, it republishes and translates texts from the time along with reproductions of works and new texts and projects.   
    
The book will be launch at: 
   
MAAT in Lisbon on the 30th of June at 5 PM   
On the 3rd of July at Serralves Museum bookshop in Porto, at 7 PM   
On the 4th of July at CAPC in Coimbra, at 6 PM.
More Info